Invest in your team whilst having fun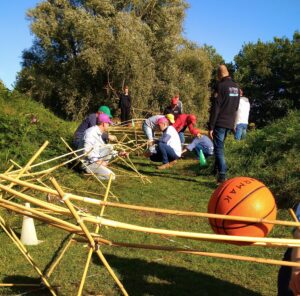 Teambuilding is a goal first and an activity second. This is what we call educational teambuilding. Group activities in which all group members learn from a shared experience. We have many different teambuilding programmes, which can be organized both indoors and outdoors. Do you want to invest in your team whilst having fun? We can help you organise a meaningful outing for your team!
Finding the best activity for your team depends on the goals you wish to achieve. We will help you determine the goals and objectives and find the most suitable active method to get there.
There are many different visions on what teambuilding should look like. If you want to go to dinner, bowling, go-karting and just want to have fun with your team, it may be best to look at other options. While the former can be excellent ways to connect with your team, we specialize in teambuilding with impact. Our philosophy is based on the vision that teambuilding should be fun ánd educational! That is why we have developed our active teambuilding, fun activities for learning with a twist! Together we look for ways to develop your team!
Goals and objectives
Whatever the goals and objectives are for your team, we will find a suitable method to help you achieve these goals. Each team is different and therefore has different needs. Whether you want to use the teambuilding to improve the communication and cooperation within you team, or want to focus on leadership, decision making or the role of your team within your organization. For each and every topic we have a suitable approach, and we would love to help you!
Teambuilding on site
At Outing Holland we spend a lot of time working outdoors. That is why, over the years we have come to know many beautiful venues suitable for our teambuilding activities. These venues offer the right setting and enough space for our active methods, which are different from most daily work activities. We know a wide array of venues throughout the Netherlands, and even some outside of the Netherlands. That is what we call: training without borders!
Are you in need of an inspiring venue or do you want to know the possibilities for teambuilding at your own venue? Feel free to contact us!
In- and Outdoor teambuilding
Contrary to popular beliefs, you don't have to be physically fit to take part in our active methods. Both indoor and outdoor active methods are possible. Even our outdoor activities usually start and end indoors.
Size doesn't matter!
That's right, size doesn't matter. Whether you work in a team of 5 or in a team of 400 people; we can find a suitable activity for your team! We can't wait to work with you.
Curious what we can do for your team?
Feel free to contact us, our experienced trainers would love to help you find the right activity for your team!
Eigenschappen
Avontuurlijk
Creatief
Spannend
Actief
inspirerend
Leerzaam
Origineel
Thema's
Communicatie
Samenwerking
Veranderen reorganiseren
Kennismaken
Motivatie
Nieuw team
Besluitvorming
Vertrouwen
Luisteren
Projectmanagement
Conflicten
Groepsgrootte
Tot 15 deelnemers
15 tot 80 deelnemers
Meer dan 80 deelnemers
Locaties
Buiten
In het buitenland
Binnen
Buiten en binnen
Op de eigen werkplek
Tijdsduur
Dagdeel
Hele dag
Meerdaags
1 à 2 uur