Mission
Our goal is to help our clients in the development and implementation of learning and development processes. We do this by creating movement, both literally and figuratively. By doing so, we strive to make learning and development a fun experience for our participants without creating the feeling that they're "just playing a game". The Outing Holland activities are never the goal, but rather the instrument that serves the goal.
How it all started
Outing Holland was founded in 1991 by Remko Sietsma. In our early days we developed a specific method for outdoor training that is characterized by the use of targeted, short-cycle, simple, powerful assignments that are physical yet doable for most people. They're active methods that can be used in wide array of venues. This approach quickly distinguished our way of working from survival-like activities in the Ardennes, which were very popular at the time.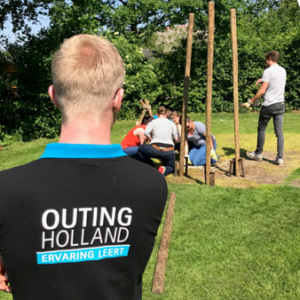 Allround and inclusive
Our vision on outdoor training has now become an integral part of experience-oriented methods. Over the years, our arsenal has grown and diversified into the wide array of methods we can offer you.
All of this has made us who we are today: an all-round training agency, both within the Netherlands and abroad. With a core team of eight permanent employees and a professional network of trainers, advisors, instructors and supervisors, we are exactly where we need to be. This enables us to work in several countries, with both small and large groups and to offer a wide range of services. From a two-hour meeting, a 24-hour event to multi-year training programs.
Curious about the Outing Holland team?
Remko Sietsma

Experience expert / Changer / Cross thinker / Entrepeneur
After years of experience, I could say I'm an expert in inventing, developing and executing experiental active methods, for learn- and developmentprogrammes. My credo? All is benefit!

Thomas de Vries

Method specialist / Connector / Entertainer / Entrepeneur
I'm an expert in combining experiental learning with active methods. Distinctive is my ability to wear the right 'glasses' to convert a particular theory or need into a fun and educational experience.

Sabine Mastwijk

Connector / Experience expert / Space provider
After years of work experience, I find that my power is to create security in a group and providing the space so that what must be said, can be said.

Wouter Hoogenboom

Researcher / Experience expert
With a sense of humor I like to challenge people to take a step. I am inquisitive, curious and focused on development.

Lara Koopen

Outdoor trainer
By being open and honest about my own learning experiences I invite others to do the same. As a learning enthusiast I believe that learning together is the most rewarding experience of all.

Yolanda Sloot

Organizer / Multitasker / Thinker 
As a project coordinator in various organizations, I have gained experience in planning and organizing. That's what I do best!

Hidde van der Maat

Enthusiastic Outdoor Trainer
Why does one person get to work right away while someone else carefully reads the instructions first? What makes people want to learn by imitating? I watch the people around me with sincere curiosity. In an enthusiastic and light-hearted way I stimulate the group to look for similarities and differences between them.