It's all fun and games… until you take it seriously!
Serious gaming is suitable for everyone! We offer business-games or simulations with a broad focus. They can reveal behavioural patterns in leadership, communication and collaboration. It opens the door to dialogue and reflection.
Serious games are particularly suitable for larger groups. Our programmes require collaboration, creativity, perseverance and empathy from all of the participants. The exercises are divers, challenging and always require you to keep the collective interest in mind.
Goals and objectives
For every goal, there is a game. You can use serious gaming as a tool to learn more about different themes such as leadership, decision making, project work or the different interests of certain teams or people. When faced with questions about the way your team works, communicates or thinks about teamwork, serious gaming has great applications to help answer these questions.
Whatever goals or objectives are important to your team, we would love to help you find the right serious game for you!
Serious gaming on site
At Outing Holland we spend a lot of time working outdoors. That is why, over the years, we have come to know many beautiful venues suitable for our activities. These venues offer the right setting and enough space for our active methods, which are different from daily work activities. We know a wide array of venues throughout the Netherlands, and even some outside of the Netherlands. That is what we call: training without borders!
Are you in need of an inspiring venue or do you want to know the possibilities for teambuilding at your own venue? Feel free to contact us!
Inside or outside gaming?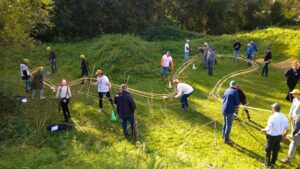 Our serious games can take place both in- or outdoors. Usually we combine the two to give your team the best experience. Good to know: You don't have to be extremely physically fit to be able to experience our serious games. Most everyone can participate!
Big or small, serious gaming fits all!
Whether you work in a team of 8 or in a team of 400 people; we want to help you find the best serious game for your team! Over the years we have helped an abundance of larger and smaller organisations find the best fit for their team. Together we will find the best, most fitting way to help you achieve your goals. Our active methods and serious games are very versatile and we can usually achieve multiple goals in one day!
Eigenschappen
Avontuurlijk
Creatief
Spannend
Actief
inspirerend
Leerzaam
Origineel
Thema's
Communicatie
Samenwerking
Veranderen reorganiseren
Kennismaken
Motivatie
Nieuw team
Besluitvorming
Vertrouwen
Luisteren
Projectmanagement
Conflicten
Groepsgrootte
Tot 15 deelnemers
15 tot 80 deelnemers
Meer dan 80 deelnemers
Locaties
Buiten
In het buitenland
Binnen
Buiten en binnen
Op de eigen werkplek
Tijdsduur
Dagdeel
Hele dag
Meerdaags
1 à 2 uur