Everyone has to depend on each other and the chain is only as strong as its weakest link. That's what this assignment is about. Integral cooperation for small and large groups (up to 1000 people!).
The assignment: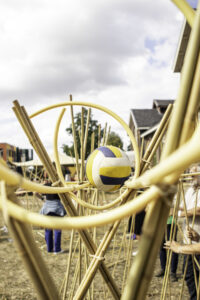 Teams are tasked with building a safe and effective "highway" together that is as long as possible. This Highway needs to carry as many rolling balls as possible to a marked end point without falling off the road. Available materials to build this highway are as practical as they are simple; bamboo, elastic and PVC pipes.
During the assignment, different projectphases can be easily distinguished. Phases we see a lot of are the design phase (making plans), a construction phase (executing plans), a test phase (testing and adjusting), an operational phase (implementation) and possibly a "LEAN phase" (improvements). There are differences tasks to distribute such as; coordinators/ strategists, communicators, builders, designers, auditors/ testers, etc.
Working together efficiently can result in a tremendously long highway with curves and height differences. Whenver multiple floors (stairs/ elevation) are implemented, the length of the highway usually increases. This challenging task can take place both indoors and outdoors
Themes
The Chinese Highway is mostly executed with larger groups, surrounding themes such as (but not limited to):
Cooperation & teambuilding
Communication
Coordination
Lean-working
Projectbased work
Leadership
Thinking out of the box
This video (in Dutch) shows a possible highway. This highway was built with approx. 100 people.