The outdoor training specialist
Ever since 1991 Outing Holland offers different Outdoor trainings. These years of experience have made us the outdoor training specialist throughout the Netherlands! Although our activities are seen as fun to take part in, we take a lot of pride in the impact that they have. Our active methods are educational first, fun second. Our active methods are designed to suit many different teams, people and organisations, whether your team consists of 12 or 200 people. You do not have to be physically fit or strong to be able to participate in our Outdoor Training!
Approach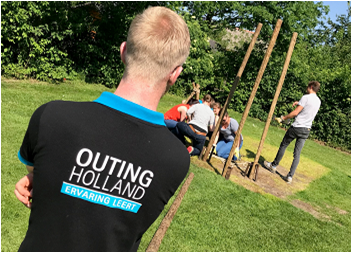 During every training there is a clear distinction between facility management and training. There is always at least one instructor present, who is responsible for the instructions, materials, logistics and safety during exercises. This way, the trainer can fully focus on the behavioural component of the workshop.
At the end of the training there is time to discuss the group processes and individual behaviour observed during the training. During this reflection phase, the trainer will make sure that the experiences from the training are transferred to the workplace.
All our activities conform to a number of important principles. The exercises are achievable, different from daily routine, and everyone can participate.
Challenges
Outdoor training is an ideal way to reveal behavioural patterns and open the dialogue. It is a powerful and goal-oriented way to move people. We have a large number of different outdoor exercises in order to tackle many different themes, for example themes like collaboration, leadership, change, teambuilding, LEAN, communication and personal performance. Our Outdoor training is a tailormade programme consistent of several shorter exercises that challenge people to experience and reflect together. Suitable for Outdoor training are topics such as, but not limited to:
Different styles of leadership
Task management
Communication and consultation
Competition and cooperation
Dealing with changes
Taking care of your team
Oudoor training on site
At Outing Holland we spend a lot of time working outdoors. That is why, over the years, we have come to know many beautiful venues suitable for our outdoor activities. These venues offer the right setting and enough space for our active methods, which are different from most daily work activities. We know a wide array of venues throughout the Netherlands, and even some outside of the Netherlands. That is what we call: training without borders!
Are you in need of an inspiring venue or do you want to know the possibilities for outdoor training at your own venue? Feel free to contact us!
Eigenschappen
Avontuurlijk
Creatief
Spannend
Actief
inspirerend
Leerzaam
Origineel
Thema's
Communicatie
Samenwerking
Veranderen reorganiseren
Kennismaken
Motivatie
Nieuw team
Besluitvorming
Vertrouwen
Luisteren
Projectmanagement
Conflicten
Groepsgrootte
Tot 15 deelnemers
15 tot 80 deelnemers
Meer dan 80 deelnemers
Locaties
Buiten
In het buitenland
Binnen
Buiten en binnen
Op de eigen werkplek
Tijdsduur
Dagdeel
Hele dag
Meerdaags
1 à 2 uur