Description
With A Case of Experience, you have the opportunity to deploy – at any desired moment – some of our assignments that help reflect on the behavioural side of (team)work. Wheter it's about leadership, communication, change and cooperation, we provide powerful learning experiences!
A toolkit for facilitators, trainers, process facilitators, team coaches and anyone professionally involved in programmes around learning and development (L&D).
The robust case offers 5 assignments that you can use any moment. No extreme physical effort is needed, therefore everyone can participate. And you can do the assignments almost anywhere – inside or outside.

Contents of the case

Blindfolds
Folding stick
Building material
20 metres of rope
Small ropes
Laser levels
Mirrors
Manual
Assignments on paper

De opdrachten

The sky is the limit:
Build the highest possible structure with the available material.


Blind faith:
Guide each other alternately as sighted and blind along an obstacle course.


The stick:
A light stick – resting on outstretched index fingers – should be brought to the ground without the fingers
losing touch of the stick.


The human knot: Everyone holds a rope firmly with both hands and forms an eight-knot without releasing the rope.


The Laser:
Project a laser beam, using mirrors, on a target.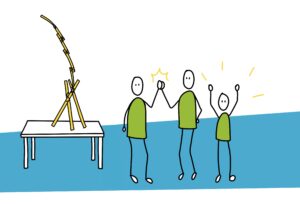 Group size
Assignments suitable for about 12 participants.
Online downloads & more
Once purchased the case you get free access to my case of experience for more information about theories, the knots and downloadable assignments.