'A leader can afford to have no solution. He or she just cannot afford not to have goals and criteria.'
A quote from Vandendriessche and Clement in their book Leidinggeven zonder bevelen. Their idea teaches leaders and managers to manage for results by placing the right responsibility by the employees.
The core insight offered by their management funnel is as simple as it is fundamental, namely that it is the operational employees who can achieve operational excellence and not the manager or leader himself. This means the manager has to 'sell' problems in particular. It is not his or her job to formulate solutions, let alone implement them themselves. The 'management funnel' below illustrates this insight.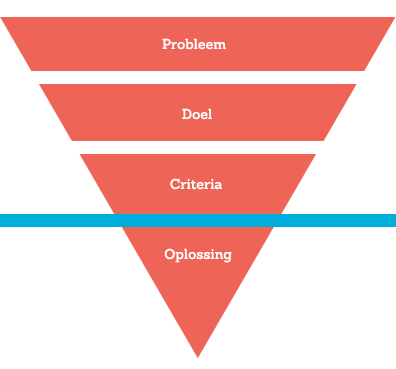 Everything above the line in this model is the manager's domain (output). The domain below the line, is for the professional who is supported to come up with their own solutions (input), according to the criteria given to them by the manager. This still requires the employee to say YES to the proposed criteria.
The art for leaders is to stay away from the solution and focus on achieving the agreed goals (output). Staying above the line becomes more difficult as executives have more knowledge and experience of operational processes. Being able to focus on goals and criteria rather than on the solution(s) creates calm among managers and – not insignificantly – trust, space, commitment, motivation and responsibility among the executive levels/ professionals.
With several experiential assignments, we allow (aspiring) executives to discover and experiment with steering towards goals rather than solutions.
Incidentally, the management funnel does not only play a role in leadership training.