Experiential learning according to Kolb's learning cycle
Every form of experiential learning – and thus all our assignments – are based on David Kolb's learning cycle. This theory incorporates the four main stages of learning: experiencing, reflecting, conceptualising and experimenting.
To give scientific meaning to the power of experiential learning, David Kolb developed his well-known learning circle. The circle is linked to the four most common learning styles. Although there sometimes is debate about Kolb's view of learning, the learning circle helps us give meaning to the power of our approach.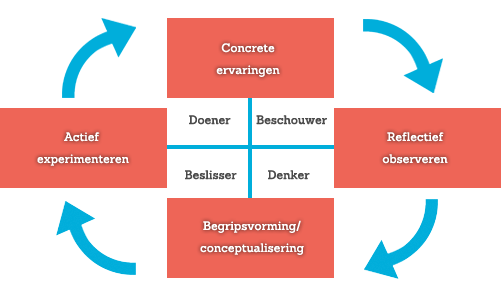 The core activity of each part of the cycle is:
Concrete experience/ action (immersion)
Gaining actual experience with reality is central.
Reflecting and observing (clarifying)
Thinking about perceived reality.
Conceptualising and assigning meaning (explaining)
It examines the extent to which the experiences and reflections associated with this one act also correspond to findings obtained earlier.
Experimenting/demonstrating (applying)
It tests whether the basic proposition – the model, the approach – holds up in reality.
Going through the whole cycle
In experiential learning, learning starts with the concrete experience and the learning process should then go through all the other phases of the cycle. Sustainable learning is only achieved when the entire cycle has been completed.
Four learning styles
The cycle is built around two axes; the vertical axis running from concrete (top) to abstract (bottom) and the horizontal axis running from active (left) to passive (right). From the two axes of the model, Kolb outlines four different learning styles, namely:
Doer – chooses his own approach in the concrete experience
Contemplator – sees a concrete experience and reflects on it
Thinker – arrives at theory/ conceptualisation from reflection
Decision maker – grasps the essence of a theory and actively experiments with it